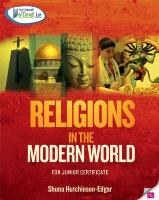 Religions in the Modern World
A balanced, exam-focused and inclusive approach to Junior Certificate Religion.
Presents the entire course in a single volume. Modern, multicultural and inclusive approach, reflective of modern times.
Assumes no prior knowledge or religious background. Balanced exploration of the major world religions.
In-context questions within each chapter to encourage continuous learning.
End-of-chapter questions followed by exam practice questions to promote recall and retention. Glossary of key words and a suggested project in each chapter.
Shuna Hutchinson-Edgar
Junior Certificate
Gill & Macmillan